Al Shrier was one of Temple's all-time greats as sports information director for decades | Mike Jensen
During Sunday's telecast of Temple's basketball game, there was a little schtick, one of the announcers interviewing Stella the Owl. The actual owl, with handler. Except you couldn't help but noticing the Temple hall of fame portraits on a wall behind the owl.
Your eye went to one portrait. There's Al Shrier. It was hard to notice anything else, even a live owl in front.
"He touched more lives than any person in Temple University's history, in 60 years," Larry Dougherty, Temple's sports information director, said Monday over the phone, talking about Shrier.
Dougherty had woken up to a text from Ruth Shrier that her husband, long ailing, had passed away early Monday at age 88. He'd worked more than six decades at Temple, most of them in charge of the sports information department.
The West Philadelphia High graduate was class of '52 at Temple. Shrier worked at his alma mater from '53 on, was around for Final Fours under Harry Litwack, and in charge of the media at the historic '92 NCAA Regional at the Spectrum, and thousands of lesser events along the way. Not just an era — all the eras.
The whole ride, nobody ever got a good look inside his briefcase.
That was Shrier's famous routine. He always had that briefcase, and he never let anyone know what was inside.
"I had one guy a few years ago who had to have a hot dog," Shrier once said. "And I produced two hot dogs out of it. He almost fainted."
"One time, he had two bags," said Mike Kern, who covered Temple for the Daily News and graduated from the school. "There was a period there. [John] Chaney used to point it out. I used to joke with him, 'C'mon, Al, let me see in there.' He'd just give you that little smile."
It wasn't the only information Shrier wouldn't give up.
"I swear to God, in all the years I knew him, he never once told you anything in advance," Kern said. "He took it like a badge of honor. I'd say, 'Al, you're making me go to all these other people.' … 'Yeah, babe.' ''
"Al shrier was great friend to so many. He was temple. A throwback to other eras. He will be missed. There will never be another like him. I was so lucky to have known him so well. He helped me along the way. Cant thank him enuf for that."
"Only thing about al shrier is i never did find out what was in his briefcase. God bless him that will remain a secret. I know it didnt have chaney ties. He was a garcia guy. Only wish i told him more how much he meant to me"
Before cell phones, the best time to reach Shrier in his office in Temple's athletic department was between 8 and 9 in the morning.
"HA-lo."
He was always ready for you, never fazed. Although he had stopped traveling years ago — flying had gotten to him — he was still in charge of press seating and other tasks, still into the office, still mentoring yet another generation.
"The thing about Al, he was a very understated guy," said Jack Scheuer, for years a correspondent for the Associated Press. "Not overzealous about anything. For such a powerful guy at Temple, you would never know it."
Scheuer, who helped run the Herb Good basketball club with Shrier and the late Bob Vetrone for years, added, "He was a stickler for the rules, extremely so, in every facet of his life."
Scheuer remembers he once lost his Temple press credential. Shrier wouldn't just wave him in.
"He made me go through this whole rigamarole before he finally let me in," Scheuer said.
Shrier was at every Temple home game, but not just at Temple games.
"It was like the Palestra couldn't function without him," Inquirer reporter Joe Juliano said of the days of Big 5 doubleheaders on 33rd street.
"Al Shrier impacted hundreds (thousands?) of people during his time at Temple, so kind and caring to all of us. He mentored me when I entered Temple and helped me countless times well after I graduated. I'll never forget him. #RIP"
Phil Martelli✔@PhilMartelliSJU
"RIP – Al Shrier was so much more than a " Temple guy ". He lifted up all on the Philly sports scene. A True Giant"
(Quoted @PhilMartelliSJU content below)
https://twitter.com/jensenoffcampus/status/1102541569322901505 …Mike Jensen @jensenoffcampus: "RIP to an absolute legend. Al Shrier, who passed away overnight, was such a good man, a mentor to so many during his extraordinary run as SID at Temple. Philadelphia lost a titan."
Technically, Shrier had retired from running the sports information department in 1996, but he showed up for work the next Monday, and stayed on the payroll until last July.
"He did everything he could for Temple," said his longtime friend, Michael Richman. "And they did everything for him."
They would socialize for decades, Richman said, maybe at an Italian place in Center City, or get together down the shore, first in Atlantic City, later in Margate.
"We would see Al all the time," Richman said. "He wasn't much of a beach person. He was a boardwalk person."
His favorite year of all, Shrier once said, was 1969. The Owls won the NIT that year, back when it really meant something, and he married his wife. Al and Ruth met when they lived in the same apartment house on Conshohocken Avenue in Wynnefield Heights.
There also was a pretty good time in 2013 when Temple unfurled a banner from the rafters, with Shrier's name and a replica of that briefcase.
They surprised him with the banner. His chin maybe quivered a little bit during the ceremony. He still wouldn't give up what was inside the briefcase.
"You've got to keep them guessing," Shrier said that day.
Services will be at 11 a.m. Wednesday at Goldstein's Funeral Home, 6410 N. Broad St., Philadelphia. The family will start receiving visitors at 10:30 a.m.
"MR. AL SHRIER is truly a Philly legend of all legends. May you rest among the angels in heaven my friend. Wings earned!"
(Quoted @dawnstaley content below)
Chaney_Quotes@Chaney_Quotes: "Temple, the Big 5, Philadelphia and college basketball lost a Legend today. Al Shrier was a giant, a basketball historian and most importantly a man with a heart of gold. Rest In Peace to the one that even Coach called "Mr. Shrier"."
"Deeply saddened to learn of the passing of Al Shrier. Al was so supportive when I was a student broadcaster at Temple. Years later he arranged for me to audition at WIP for the job that changed my life. He impacted so many lives. May he Rest In Peace."
Dick Jerardi@DickJerardi · 45m
So many great memories of Temple's Al Shrier, a wonderful man. When John Chaney got suspended after the media room scene with John Calipari, Chaney held a press conference where he explained among other things that everybody was mad at him, including his dog.
"Also said his wife had left him. Chaney watchers knew he was kidding, but this was a big story so at least one wire service was there. When I saw the wire story, it included the wife detail. I called Al and said you have a problem. He got it fixed, like he did everything."
Dick Jerardi@DickJerardiReplying to @DickJerardi
"Philly Temple and everybody who knew Al have lost a man who saw it all, knew it all and made everybody's life better who ever came in contact with him."
"RIP Al Shrier. A great man who did a lot for student-athletes at Temple and the SID world in general."
"Think of the many thousands of student-athletes who have benefitted from Al Shrier's thoroughness and relentlessness through the years , many of whom never had the pleasure of meeting him … Farewell to a friend of so many …"
"Sad to hear about passing of al.shrier beloved temple sid. Those r tears in my eyes."
Jonathan Tannenwald@thegoalkeeper
15 years ago, Al Shrier was wonderfully kind to a college kid from across town who had no ties to Temple but had fallen in love with Big 5 basketball, and had just started to cover it for his school's student newspaper.

Al will be greatly missed by a lot of people in this city."
"RIP Al Shrier. #legend #SID #owlforever I hope you and Frank Bertucci are having a debate on the best of the Big Five. @TempleOwls"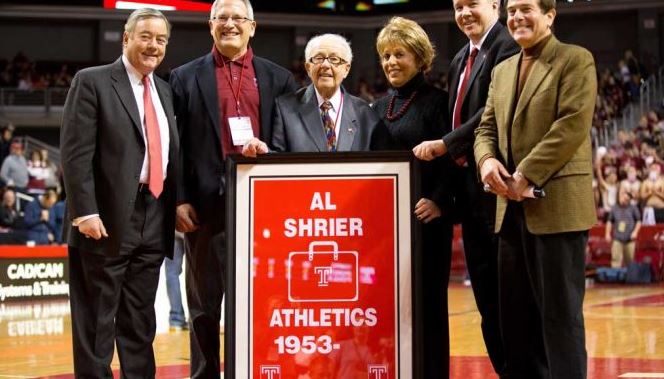 "The @TempleOwls lost a legend today. Al Shrier is a Philly icon. Always carried that famous briefcase anywhere he'd go. I remember Al yelling at me once because I let my photog sit in an empty seat at press row. He then laughed because I thought he was serious. RIP #AlShrier"
"From helping me to interview Wayne Hardin as a @TempleUniv student to his gentlemanliness…
RIP Al Shrier #briefcase"